Featuring reporter Natalie Joday. Follow the adventures of Natalie,her brother Daniel, and her colleagues at the Bergen Evening Staras they investigate the in modern northeastern New Jersey. A mixof character study and the twistiest puzzlers this side of Route 17.
Measure of the Universe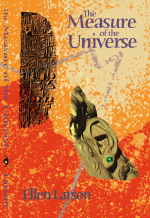 A wide-eyed archeologist from Aldebaran arrives in the 22nd century Greek isles to study ancient inscriptions with a sharp-tongued professor ofpaleography. Will they discover love among the runes, or will theirmutual deceptiion spell disaster for both their worlds?

Epic adventure set on a distant world in the far distant future. Click on the piccy* to learn more and read an excerpt. (First sketch of proposed cover art by artist